Easy Dificultad

30 min Prep

4-13 Age range

2 Serves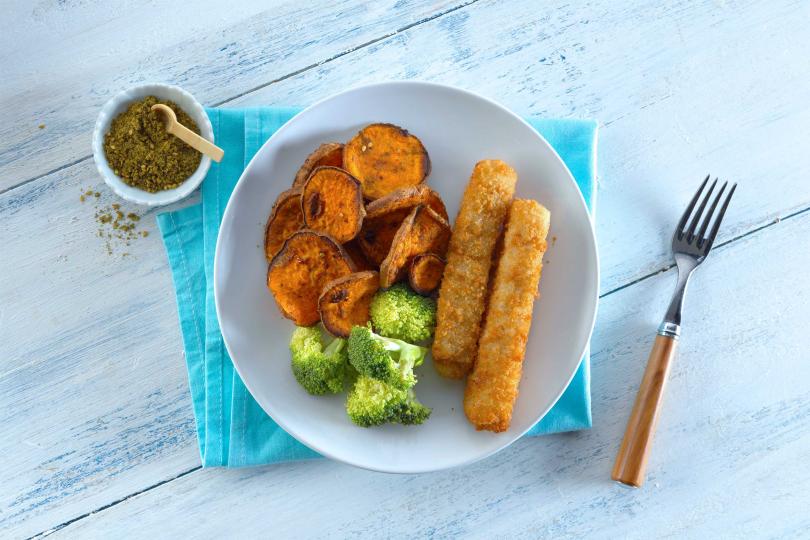 Let´s Cook
To make the fish fingers:
Preheat the oven to 200 C.

Chop skinless fish fillets into strips.

Set up 3 bowls, in the first one add the flour, the second one add the whisked egg, and the third one place the breadcrumbs with preferred seasonings (pepper, paprika, or garlic powder).

Toss each strip in (1) the flour first, then (2) egg, then (3) breadcrumbs.

Set on a lightly brushed oven tray, an inch apart from each other.

Place in the oven for 8-10 minutes, turning over halfway, and bake until golden on the outside and cooked from the inside.
To make the sweet potato:
Wash and chop the sweet potato into thin circles

Marinate in a large bowl with some olive oil, zaater, and a pinch of salt.

To bake in the oven, place in an oven tray (no oil) for about 35-40 minutes on 180 C until fully cooked through.

Then broil for a crispy finish for another 10 minutes.

Those fish fingers will disappear in no time.
MORE Managed portions
Portion sizes that are suitable for kids can be surprisingly different from those you'd serve to an adult. With our simple health tips for kids, you can get them involved and be sure they're getting just the right amount of fuel they need to grow.