Easy Dificultad

55 min Prep

4-13 Age range

6 Serves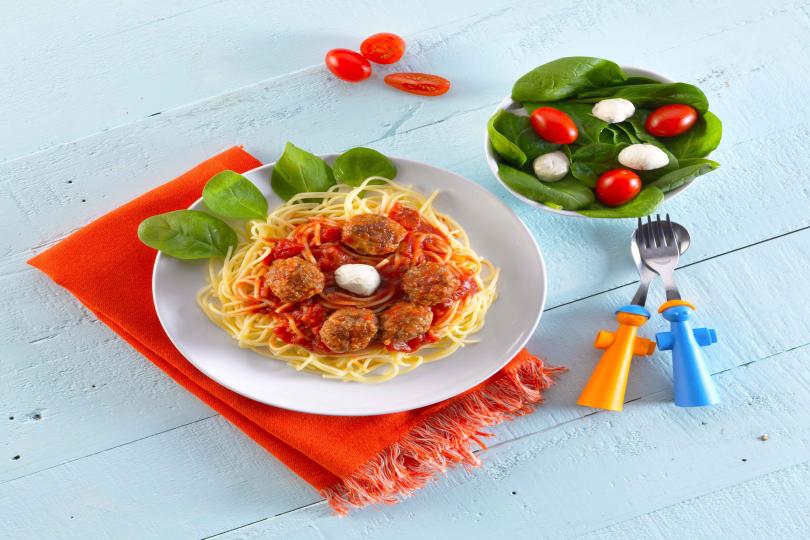 Let´s Cook
To prepare Meatballs: place toast slices in a mixing bowl, add milk and allow bread to absorb milk and get soft, then add minced beef, olive oil, oregano, Parsley, Egg and chopped onion to the mix until well combined. Shape mixture into small meatballs and allow to rest in fridge for 10 minutes.

Bake in a preheated oven at 175 degrees C for 20 minutes or until fully cooked and slightly golden on top.

Peel and finely chop onion and garlic, and roughly chop tomatoes.

In a medium pot add onions and garlic to olive oil, sauté until soft then add the tomatoes, season with a pinch of salt and pepper. Add chopped basil leaves if you wish.

Reduce the heat, cover and let it simmer for about 15 minutes. Return cooked Meatballs to the sauce and cook for an additional 5 minutes.

Meanwhile cook spaghetti in boiling water as per package direction. Drain and set aside.

Serve cooked spaghetti with meatball sauce on top and additional basil leaves as optional garnish.

Viola! You got your favorite Super Pasta and Meatballs is ready.
MORE Managed portions
Portion sizes that are suitable for kids can be surprisingly different from those you'd serve to an adult. With our simple health tips for kids, you can get them involved and be sure they're getting just the right amount of fuel they need to grow.